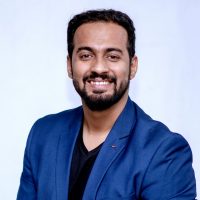 Saif Khan
Saif is an NLP Master Practitioner and Master Coach from the Original Society of NLP, CA, USA and a Certified Emotional Intelligence facilitator from Conscious Solutions (DorisNLP), NLP Association International and European Community of Neurolinguistic Programming. He is also a Life Coach.
Saif Ulla Khan is a Mechanical Engineer by qualification and a trainer by passion and choice. Quitting his well-paid job at one of the fortune 500 companies, he chose to start his journey of transforming individuals, hence co-founded Talk To Us.
For more than half a decade he has helped thousands of individual reach their life goals. In his career as Sr. Corporate Consultant at Infosys to Co finding Talk To Us, his major focus was on de-conditioning of his participants. He strongly believes that the best way to move forward in life and succeed is not just through learning new things but through unlearning what's un-resourceful and what's limiting. Along with training corporate professionals and students, Saif has also closely worked with numerous teachers, training them on "How to program students for a brighter future". Also, his expertise is coaching parents, couples and individuals who struggle in finding a reason to be happy in life. His passion for training and his understanding of Emotions and NLP has helped him find his purpose of life. Saif's vision is to educate 2,00,000 individuals by 2025 on Managing Emotions. He believes that if one knows how to drive emotions and is capable of creating choices in feeling emotion can overpower any hurdle and can conquer every aspiration.